Coaches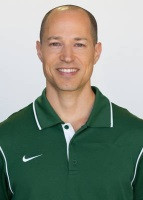 Eyal Zimet | Head Coach
Eyal Zimet entered his first season as the head coach of the Tulane women's beach volleyball team in July of 2019.
Zimet comes to Tulane from Dartmouth College, where he spent four years as an assistant coach with the Big Green women's volleyball team.
Before his time at Dartmouth, Zimet served as both the co-head coach of the beach volleyball team and assistant coach of the indoor volleyball team for four years at the University of San Francisco.
Prior to his eight years spent coaching, the Israel native played volleyball competitively for more than 20 years.
After competing for the Israeli National Team for nine years, Zimet headed to the U.S. to play for the University of Hawaii, where he helped lead the Rainbow Warriors to an NCAA Championship in 2002.
Graduating from Hawaii in 2004, Zimet then participated in the AVP Tour in 2006 and was runner-up for rookie of the year honors. His professional success continued over the next few years, as Zimet was an AVP Brooklyn semifinalist in 2009 and finished in the top 10 in the 2010 team rankings.
During his AVP career, Zimet also developed and implemented conditioning and training programs for many tour professionals while additionally serving as an advisor for several international teams.
His many accomplishments do not stop there, as Zimet also served as the head coach of the Panamanian National Beach Volleyball Team, guiding the program to a silver medal in the FIVB Olympic Qualifier.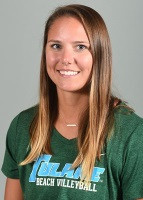 Katie Horton | Assistant Coach
Katie Horton was named the Tulane beach volleyball assistant coach in August of 2019.
Horton comes to New Orleans from Tallahassee, Florida where she served as the assistant coach for the Chiles High School beach volleyball team. In her one season with the program, Horton helped lead the Timberwolves to their first ever beach volleyball championship and a 14-1 record.
Prior to making her way to Tulane, Horton also spent the past year coaching the C3 beach volleyball club team and working as the director of operations for the Tallahassee Volleyball Academy.
Horton's experience doesn't end on the sand, as the incoming Green Wave coach was also the U16 National head coach for the Tallahassee Volleyball Academy in 2019 and an assistant coach for Chile's indoor volleyball team in 2018.
Beginning her collegiate career at Ohio University in 2013 before transferring to Florida State in 2014, Horton racked up multiple accomplishments in her years as a student-athlete.
"Katie Horton was one of the best indoor and beach crossover players to play at FSU," Florida State beach volleyball head coach Brooke Niles said. "She has so much skill and knowledge for the game, but also knows how to relate to the student-athlete. She's is going to be a great coach and I know she is thrilled for this opportunity to learn and grow."
Horton spent one year on Ohio's indoor volleyball team as an outside hitter before making her way to Tallahassee, where she would then play for four seasons on the beach volleyball team and three on the indoor volleyball team.
The Michigan native was named to the NCAA All-Tournament Team and earned CCSA Tournament MVP honors in 2018, while was also named to the CCSA All-Conference Teams in 2017 and 2018. Horton helped lead the Seminoles to a 33-7 overall record in her senior season on the sand, going undefeated in conference play with a 17-0 record to finish as national runner up.
Horton made history on the indoor court as well, becoming the first player in FSU history to earn 1,000 kills and 1,000 digs. She was also named AVCA All-East Region in 2014 and 2016, AVCA All-America honorable mention in 2014 and First Team All-ACC in 2016.
Earning a B.S. in sports management, Horton spent the 2018 season as a student-assistant with the beach volleyball team to wrap up her career with the Noles.